Another
dreich day in Johannesburg.
So lets cheer ourselves up by seeking out some awesome heels. Oh yeah, it was between that and chocolate today and chocolate is a no-go.
Take my Friday's Shoegasm button and join me in posting your favourite pair of funky stilettos.

I don't usually post flats but these caught my eye. They look so natural and rustic. Like you could roll 'em up and smoke 'em. Apple Bottoms by Nelly $34.99
LoriBlu Jeweled Blue Satin Sandal $550

This graphic artist, Taylor Reeve, hand paints her pop art on all sorts of different canvases. Here she's painted on the soles of a pair of funky stilettos. What a brilliant idea!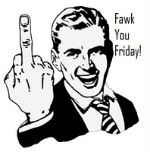 Its Fawk You Friday! So, go and link up with Boobies and Christy and find expression for all those bottled up feelings of anger and frustration towards anyone and everything that pissed on yer battery this week.
Fuck you to the

hackit school teacher that did not allow my Megan to go to the bathroom when she asked politely. Poor sweet Megan tried to hold it in but eventually wet herself. All because of some teacher on a fucking Power Trip. I'll take that Bitch down! I wrote a strongly-worded letter the principal yesterday and I better have some feedback soon!

Fuck you to the wet winter weather that is'nae good for our leaky roof. The other night it poured down our walls. Rain! Rain! Go Away, ye manky bastid - Och just Fuck Off!

Fuck you to the thumb tack I sat on yesterday in my office.

Ah'mno sure if some Bawheed

executed a practical joke on me and placed it on my chair, or if it just fell off my pin-board on to my chair. Well, the all-embracing cynic in me is I going with shithead playing a practical joke. I will find out who you are - I will seek revenge.

I'm taking part in Flash Fiction Friday 55. You need to give G-Man and visit and tell a story in 55 words. I haven't done it in a while but I had some inspiration this week.


You gave me a fright in the supermarket isle. I was distracted by shopping when you surprised me with your visit. I kissed you and beamed. It was indeed lovely that you popped in just because you could. It's the little things that make my day. It's the little things that make my heart glad.


"I'm wearing Scottish underwear today; I love the nice breeze"
Now Plonkers, you have ONE more day to
Caption my Freaky Photo
and win so click on the link and go leave a comment, if you haven't already...