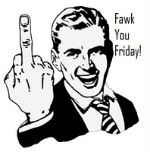 Boobies, Babies and a Blog
hosts Fawk You Friday. Go link up and bitch, whine and moan as much as you want, Doochebags.
This week's Fuck Yous:
The FuckNut who stole my parking at the front of our local Spar. He just cut me off and slid right in there. Who the fuck does he think he is? I have made mental notes of your car registration and I will key your precious Mercedes, Bitch!

Fuck you to my budget that is looking particularly anorexic. Its incredibly sad...I'm thinking selling my Dance Stage Universe XBOX games and mats. Anyone buying? Contact me on info@redpepa.za.net.

Fuck you to my liquid diet that has me running to the lav to empty my Beaver Box every fucking 5 minutes at work. Can't I just put a catheter in and empty the bag at the end of the day? My poor Lickity Split is chafed.

Love me some Tartan
Have a BRILLIANT weekend, Plonkers!