Head on over to G-Man for this week's 55s
Fuck you Friday is lots of fun
You get to vent and bitch,
Anonymous desperate whining
An enacting wicked horrid witch
Actually who says it's a performance?
Perhaps that's who I really am,
Enjoying being rotten and beastly
Dominating and being called "M'am".
If all else fails, I could become an actor.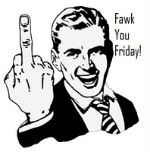 Fuck You to the Telemarketers who keep phoning me even though I don't listen to them. I put the phone down on my couch and let them yak away or I give the phone to my five year old. That keeps them busy for a while.

Stroppy School Administrators who call you and tell you off because you haven't given them correct contact details and that they've been trying to get hold of you for ages - but you have! Telling me "How would you feel if this was a REAL emergency and we couldn't get hold of you?" What the fuck? Get your records straight! They think because they have your children chained to their desks for 5 hours a day that they have your balls in a vice alos. Let me tell you something Mrs School Administrator - you may be able to boss my 8 year old around but don't intimidate me. Now fuck right off and get back to being busy doing nothing.

Fuck you to Mother Nature and all the lives that were lost in Japan's Earthquake this week. I'm was shocked stone still for ages!

Fuck you to all my clothes that have shrunk since I stopped smoking. All is forgiven! Now please resume your normal size or I'll have to move on to wearing stretchy preggie pants for the winter season. Not sexy okay?
Have a wicked long weekend!
Share
|